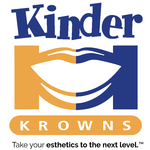 Kinder Krown
Zirconia Kinder Krowns®, preformed all-ceramic pediatric crowns, were seamlessly designed to combine ease of placement with unrivaled esthetics that will last until the natural deciduous tooth exfoliates. Our system incorporates mechanical internal retention, which eliminates the need for a special cement and annoying try-in crowns. Our mission is to make things simpler for you and your staff.

Key benefits of incorporating Kinder Krowns® into your practice: · Simplicity. No try-in crowns or special cement.
· Our Internal retention threads provide mechanical retention and allow you to use glass ionomer cement and the actual crown for intraoral try-ins.
This saves you valuable inventory and chairside time.
· A more natural-looking smile
· By glazing and polishing Zirconia Kinder Krowns, they blend in with your patient's natural dentition – rather than reflect like some competing crowns which are 100% polished.
· Universal Anteriors and Posteriors help your bottom line
· Incorporating Universal Anterior and Posterior Kinder Krowns into your practice will cut your inventory requirements in half. However, if you prefer the look of lefts and rights,
they are also available.
· Less reduction and less chairside time
· Our new Less Prep design requires less reduction and time to place Zirconia Kinder Krowns than ever before.
· Save money, without sacrificing quality.
· Kinder Krowns are the most competitively priced zirconia pediatric crowns made in the USA.