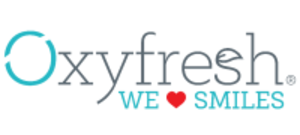 Oxyfresh Worldwide, Inc
Oxyfresh is known for modernizing the way dental patients and professionals approach at-home oral care for more than 34 years. Trusted by dental professionals worldwide, their unique, patented formulas are born from the idea that real dental care doesn't need to cut corners. They are developed with only the best ingredients that science and Mother Nature has to offer, free of alcohol, dyes and artificial flavors.

Oxyfresh dental products stand alone and feature Oxygene®, a safe yet powerful ingredient that gently neutralizes the bacteria and volatile sulfur compounds that cause bad breath. Clinically proven to not only effectively eliminate bad breath, it helps reduce plaque and tartar formation. It is the first line of defense against periodontal disease.

Oxyfresh products are ideal for every patient, especially those with periodontal disease, gingivitis, receding gum lines, halitosis and cosmetic work.

Unique - Patented formulas aren't found anywhere else.
Safe - Non-toxic formulas that are effective at helping patients achieve optimum oral health.
Proven - Clinically proven in a published 12-month double blind, placebo controlled, study to outperform other leading brands.
· Naturally Sweetened With Xylitol- Has been shown to fight the formation of plaque and bacteria.
· Fluoride Options - To help protect your smile against cavities.
· pH Balanced - Formulas are designed to be a neutral pH, helping to protect your teeth and gums.
· Alcohol-Free - Products with alcohol can dehydrate tissues, leading to dry mouth, receding gums and overall worse breath.
· Dye-Free - Non-staining and helps protect enamel and cosmetic work.
· Burn-Free - Gentle and effective without the burning caused by alcohol based dental products.
· Artificial Flavor-Free - Only natural essential oils for a fresh from the dentist feeling.